Well, as I haven't taken a proper vacation this year, I managed to persuade
loreley_se
and
londinensa
to travel to the north of France this week to spend a few days at Pierrefonds. We arrived late Monday night and spent Tuesday through Thursday at the castle. Interspersed with our time at the castle, we ate the most fabulous food and drank exquisite wine at the restaurant attached to our hotel and just thoroughly relaxed. I would recommend this combination to anybody.
However, you're probably more interested in what we saw during our stay ...
We headed to the castle on Tuesday morning and encountered a fairly quiet set. It didn't take us long to figure out they were just starting to set up the castle for filming. It was actually quite fascinating to see the castle change from a monument to a live filming site. Props kept getting trucked in, kilometres of power cables were installed, and lights were being set up everywhere. The senior production team including Johnny and Julian and cohorts did an indepth walk through of the castle and the surrounding grounds, cataloguing what they'd need for this block of filming. Their notebooks were definitely out in full force!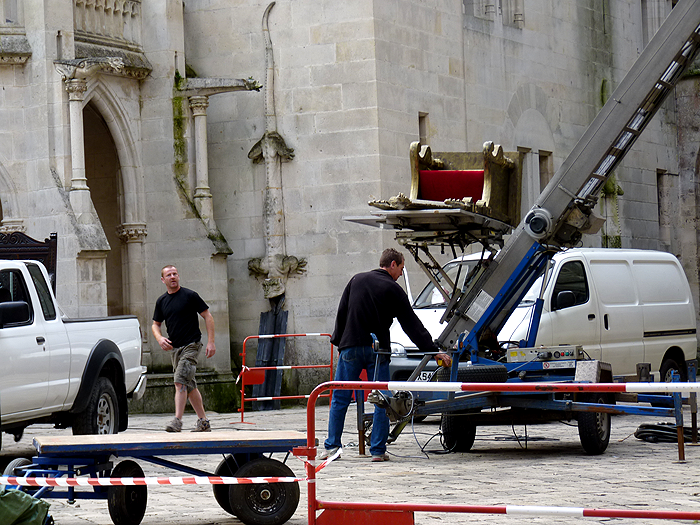 This is how a throne gets delivered into the throne room ;). Why carry it up the stairs!

While this was all going on, in between watching everything, we finally had the chance to go down into the crypt (which is normally closed during filming). What an incredible place! They've got a magnificent display of funeral statuary; if you haven't made it down the stairs yet, it's well worth the visit.

Between one and two in the afternoon the castle closes down for lunch. Ergo, we headed down to one of the cafes in the heart of Pierrefonds. And once we'd settled down in our seats and ordered our lunch, what did we see? A gaggle of Merlin cast and crew abandoned in the little village square. Apparently, their "big coach" had just dropped them off at Pierrefonds with all of their luggage. They must have spent a good 40 minutes waiting for the smaller people carriers to pick them up. In the meantime ...




Rupert looks mighty fine in that beanie of his. And the guy on the left -- keep reading my post. I call him Big Tall Guy with Arms.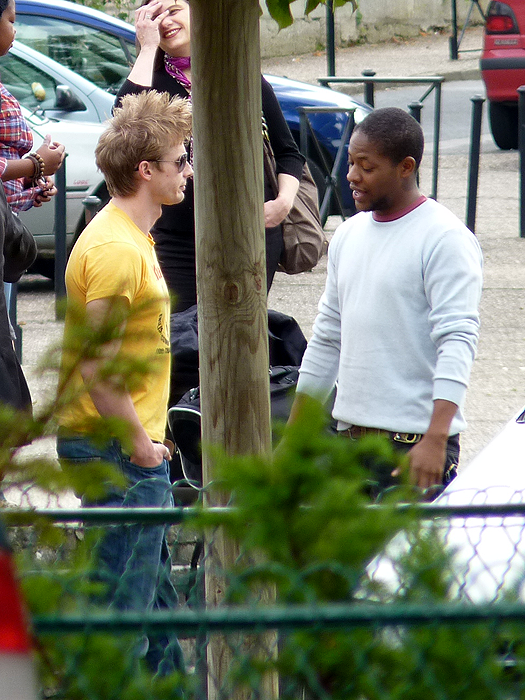 Why hello Mr. James. My you have big hair today!! And he spent a lot of time talking to the actor next to him who will also show up later in this post as part of his fighting troupe. In what capacity though, we can only speculate.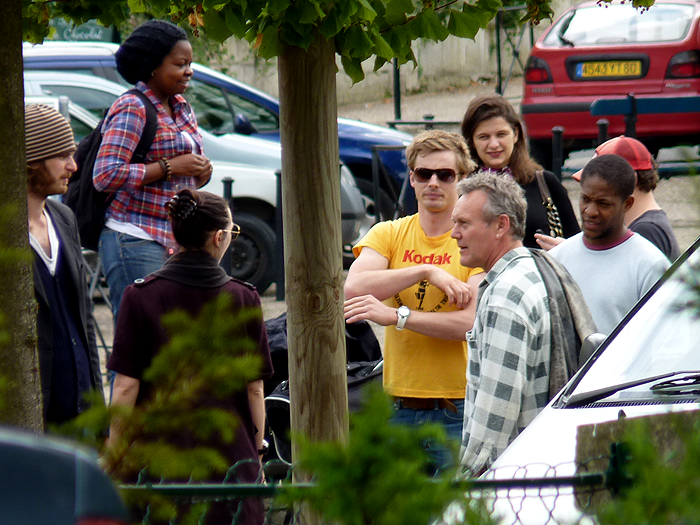 Katie! Tony! Why, nearly the entire gang is here. No sign of Colin though ...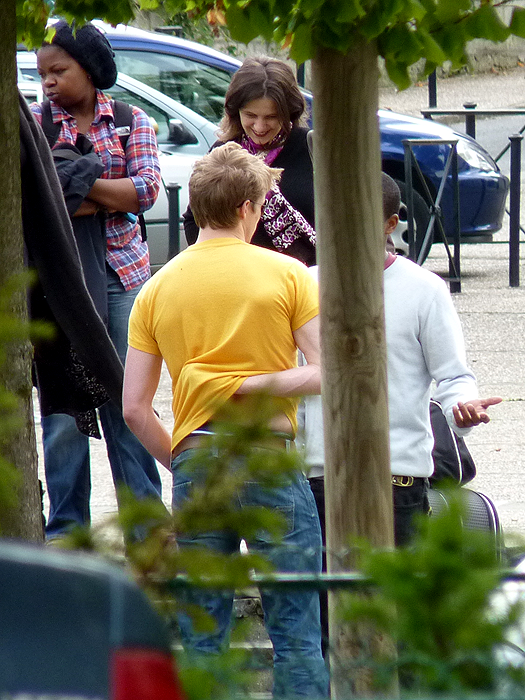 Go ahead Bradley. Scratch that itch when you need to. We're not going to complain.

At the end of the day, we headed back to our hotel and the restaurant attached thereto. It has a reputation for fabulous food -- and well earned indeed! We were just starting the second of our five courses when I looked up and saw Johnny Capps walking into the restaurant, followed by Julian Murphy and five other senior members of the production team. What can I say! They obviously have good taste in food. Over the course of the balance of the evening we heard much laughter from their table and a very loud toast to their excellent team. Awwww, bless.

The next day started overcast and dreary. We grabbed our umbrellas and headed out. Once we arrived at the castle and picked up our tickets, it was clear that the "filming" vibe was in the air and sure enough, it wasn't long until the cast started to arrive.

I was also very pleased by the fact that this year, Marie -- who wrangles the extras--was also appointed as the fan wrangler. She came up to the fans each day and specifically said -- no requests for autographs or personalized pictures. Feel free to take pictures without flash, but please, don't interrupt or interfere with the actors. Essentially: stay back and observe.

On a separate note -- allow me to apologize at the outset -- I was playing with camera settings and learning how to use high speed photo burst this week so many of my pics are not as clear as they normally are. But I hope the moments I've caught on camera make up for the lack of sharp focus at times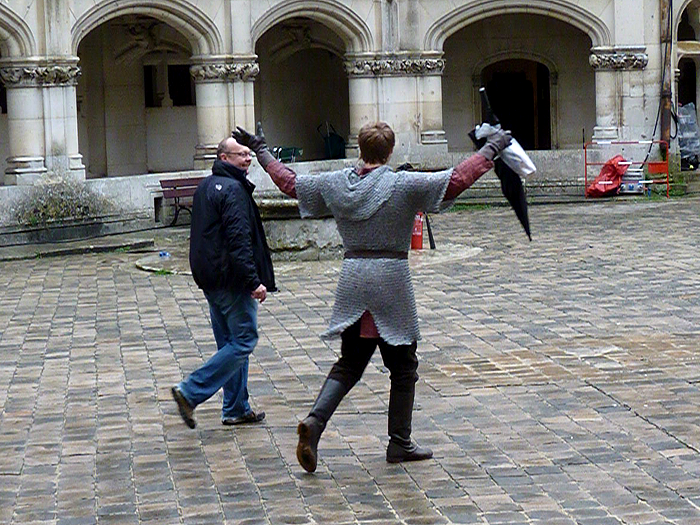 Bradley was the first to arrive accompanied by Julian. And I love this pose -- "I am the Prince of this Castle!".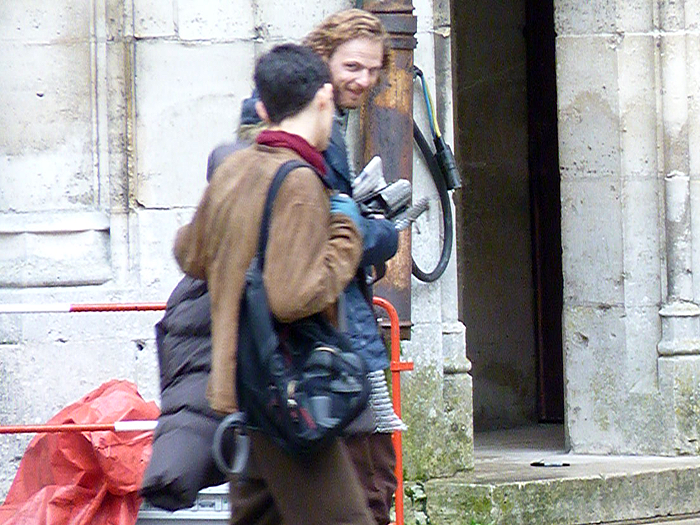 Shortly thereafter, Colin and Rupert arrived. I just adore the look Rupert gave Colin. Awww.




Once Rupert headed off to join his fellow knights, Colin headed towards the main stairs with his trusty puffy coat and disappeared inside the castle. :) Colin + Puffy Coat=OTP.




A few minutes before Colin arrived, Bradley had headed towards the "filming corner". And, based on line of sight here, it appears as though Castle Guy (he's one of the chaps who works for the castle who is responsible for ensuring that the filming venues are clear), also appreciates a certain perky behind in chain mail. ::heh:: Or if you have a different suggestion as to what he's looking at, feel free to make it! :D.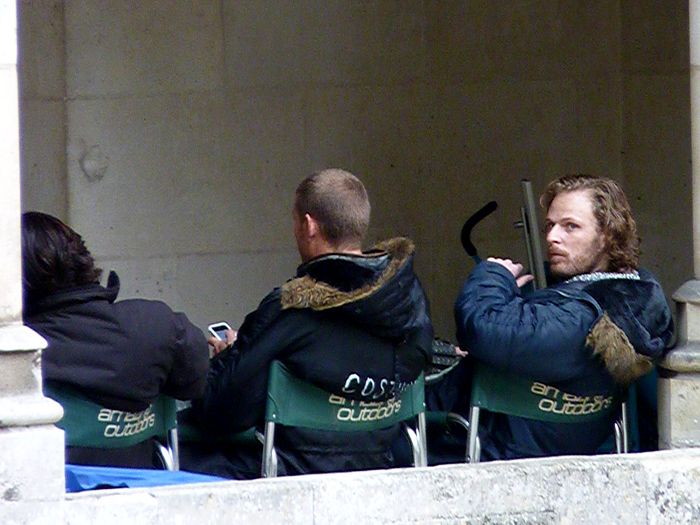 As the actors started arriving, they all found their spots. Rupert didn't waste any time looking around. And it didn't take him long to spot the fans.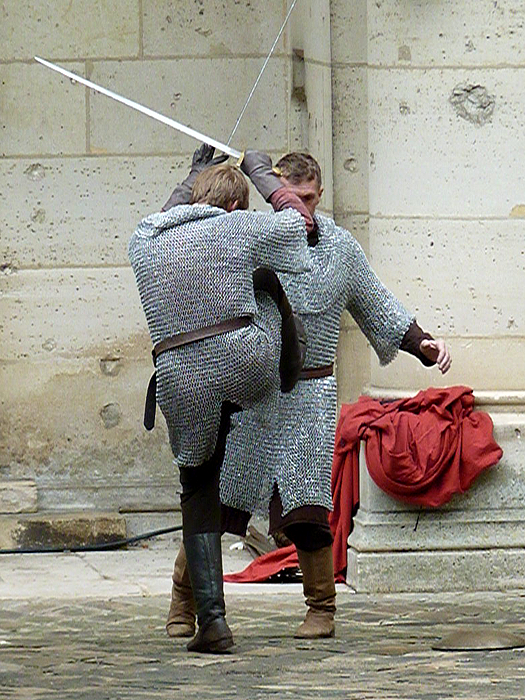 Once the rest of Arthur's knights (and the bad guys had arrived), they started rehearsing in the courtyard for a fight scene. It was utterly fascinating to watch. Bradley had mentioned in an earlier interview how he's careful to assess the skill level of the guest actors. This is a prime example of just that as they were moving at 1/4 time, just getting a feel for the choreography.

Once they'd warmed up sufficiently individually, they got into the group fighting itself. Although ... not all of Arthur's knights are quite as ruthless as Arthur is ;).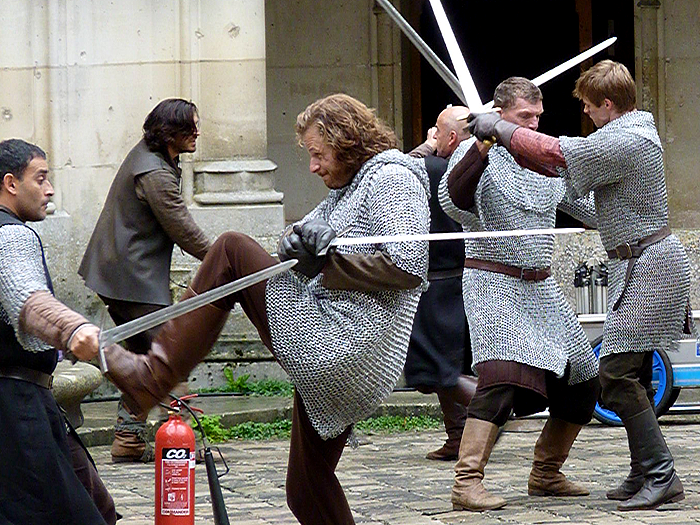 Doesn't Rupert/Leon just look like he's saying: "I'm sorry. I really don't want to hurt you. Really!"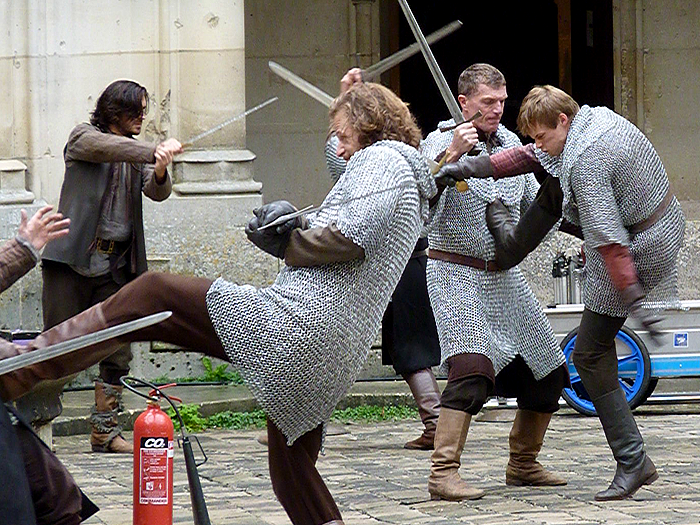 "But my Boss over there -- Arthur -- expects me to. Sorry again!!"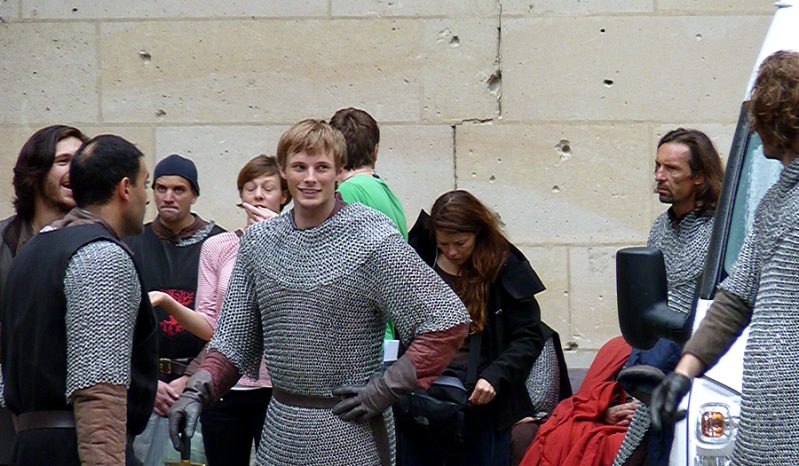 But obviously, Bradley/Arthur isn't such a horrible boss. Otherwise, Rupert/Leon wouldn't be getting this smile!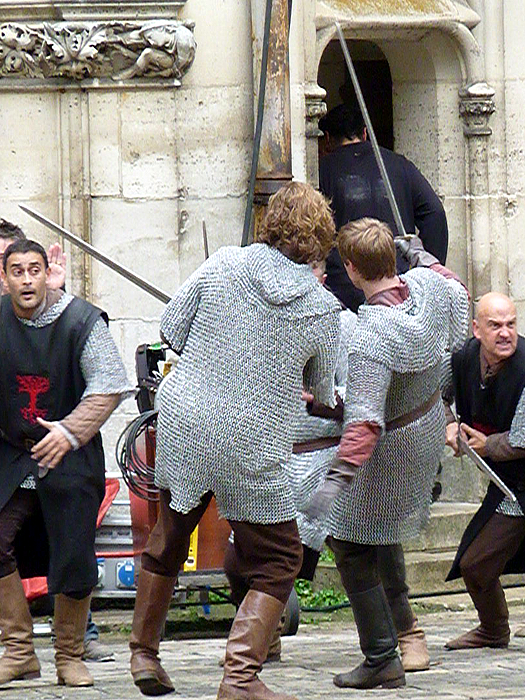 And neither would trust each other to be this close when it comes to swords and battles :D

As they continued their rehearsals, Bradley kept getting more confident (he clearly was the best swordsman of the lot). At one point, after he finished the blocking he went around and faux punched several of the actors and wrapped it up with this pirouette of victory:






Oh Bradley. Never change. :D




Speaking of new cast, if you ignore the gent in the black tunic, immediately next to Leon we have Big Tall Guy with Arms. And next to him we have Gawain -- assuming our information is correct. Let's hope they are regular additions to the cast! I do have to admit that I'm very amused that Big Tall Guy with Arms has a chain mail shirt which doesn't cover said bulging arms. Hmmmm ... so which demographic are we appealing to here?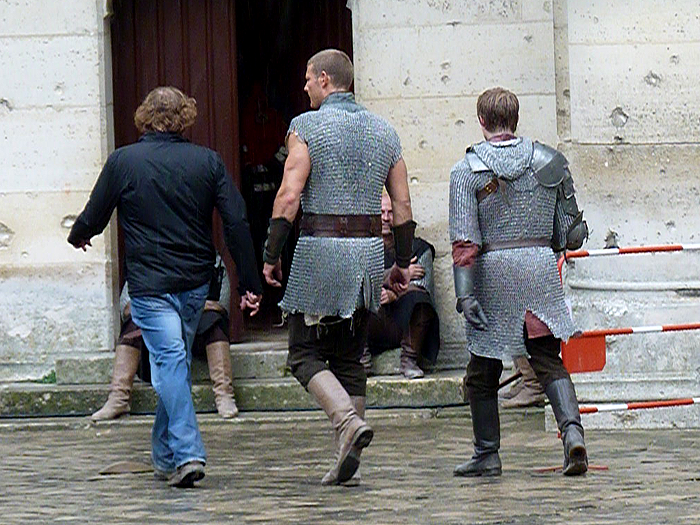 And speaking of Big Tall Guy with Arms -- look at him in comparison to Bradley. Bradley's not a wee thing; BTGwA is *huge*.




Speaking of Gawain, he promises to be an interesting character. Here he is, stepping back from the action.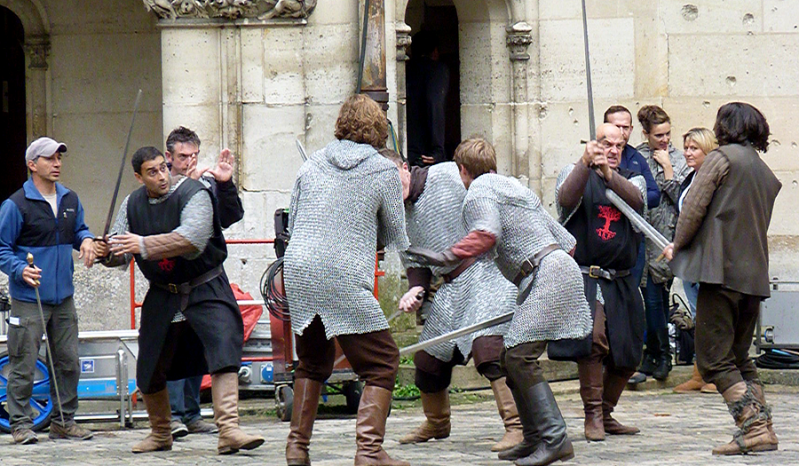 Until his presence is required. But check out the director, Jeremy Webb, blocking the shots in the background!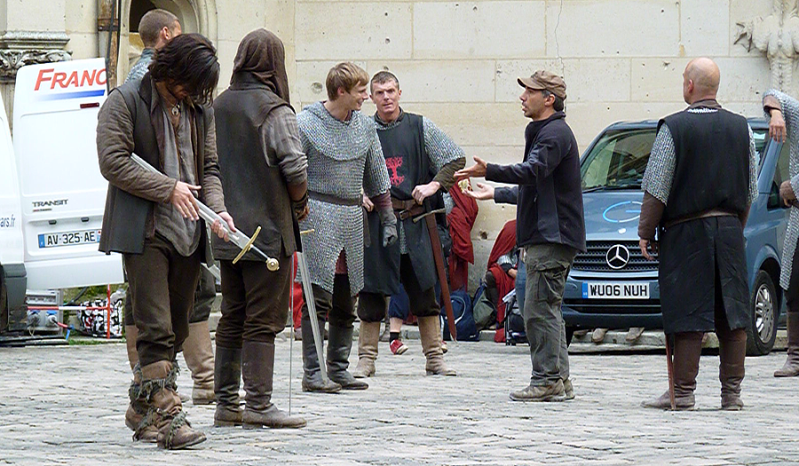 And once the filming is done ... well, I'm not quite sure what the actor is doing to his sword...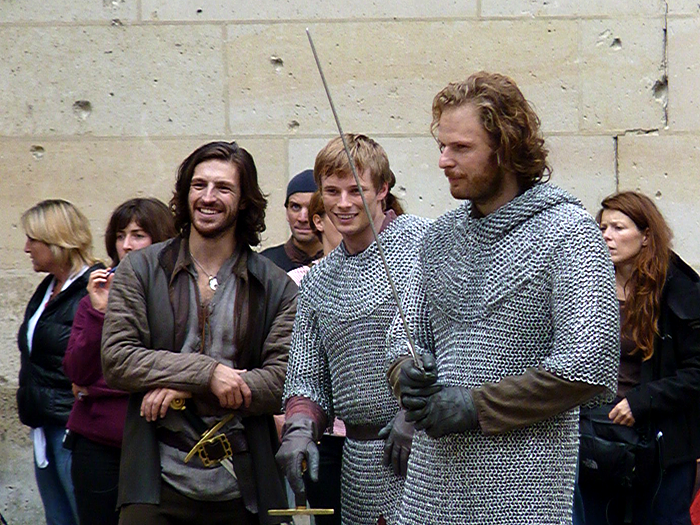 They look to be a promising bunch of troublemakers, don't you think? :)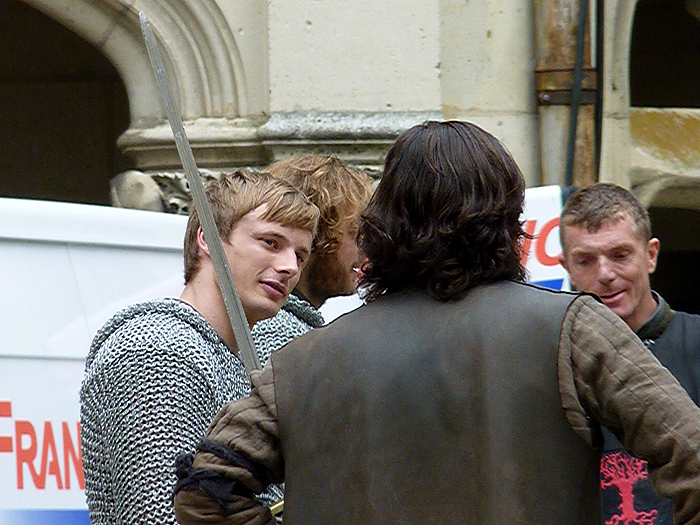 I'm particularly keen to see how Gawain fits into the fold. It would appear as though Bradley and Eoin Macken get along rather nicely indeed.




And, it looks like they know how to have fun. I suspect Arthur rather enjoys training these days with this bunch around!

Speaking of training, Andreas was around all day Wednesday.




Here he is, motivating the boys.




But here's Bradley, also acting as Swordmaster (deservedly so -- the boy has become *good*).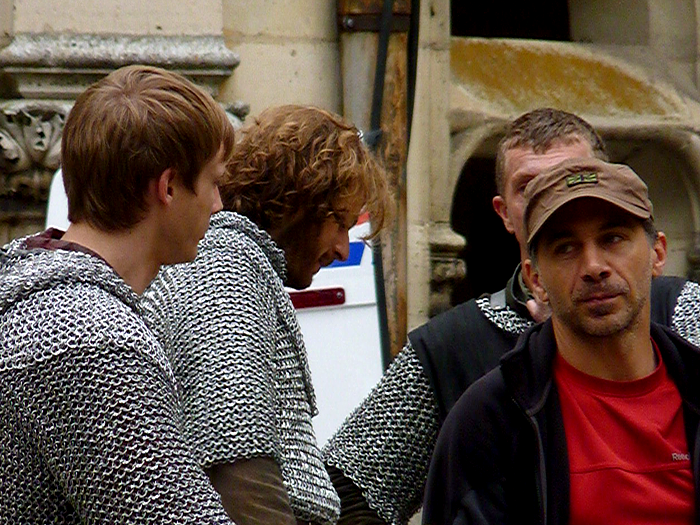 However, Andreas was not so much impressed with Bradley's turn as SwordMaster (after all, union jobs are union jobs ;). [Obviously joking -- but the look on Andreas' face -- priceless].

As for priceless faces...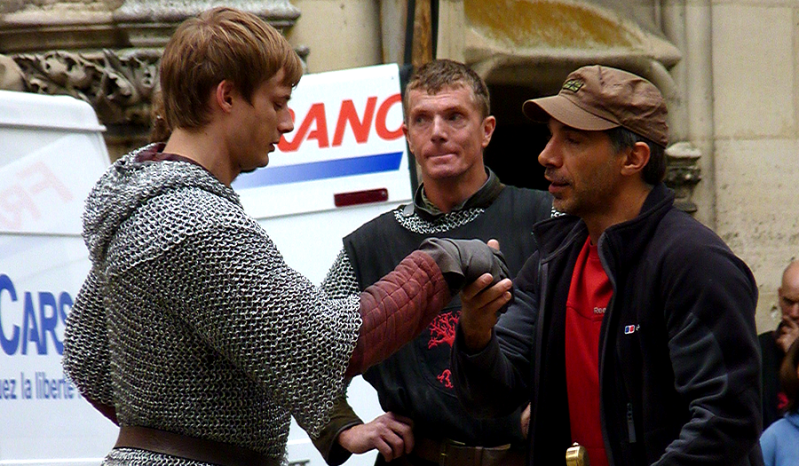 Bradley's not quite sure what's going on here... if it's a proposal, he's already taken...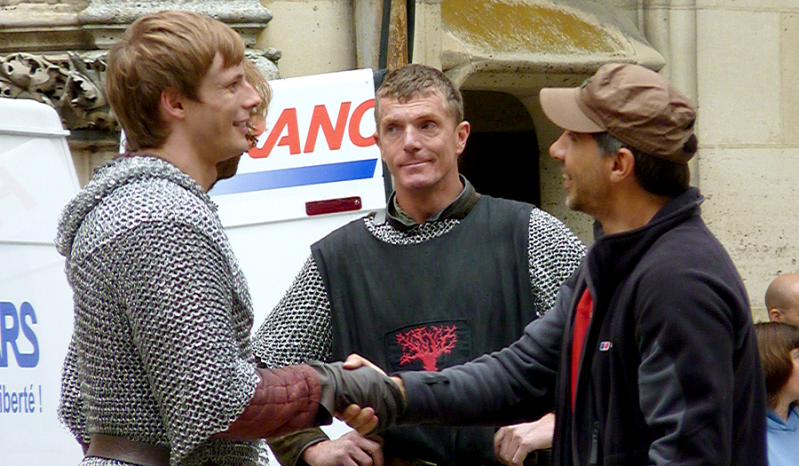 Not a proposal. A handshake! He can deal with this!!




And after all that stress, a man needs some quiet time...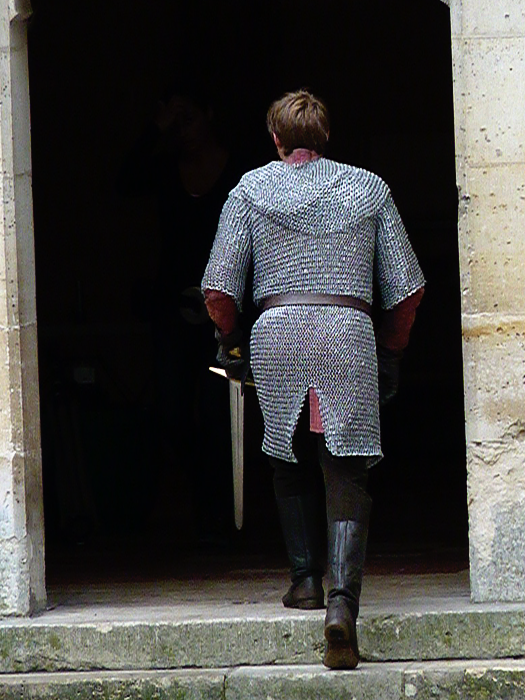 ... and then off into the heart of the castle he goes.

And as Bradley, heads off, Colin enters the scene.

Now, they were filming in the green area between the castle gate and the castle entrance itself--it was all part of a tournament scene. Ergo, we weren't allowed close to the filming itself. However,
loreley_se didn't waste too much time climbing up a nearby hill. I followed shortly and we ended up with this fabulous view.




This is how far away we actually were. As you'll see from the rest of the photos, we thank the camera gods. :)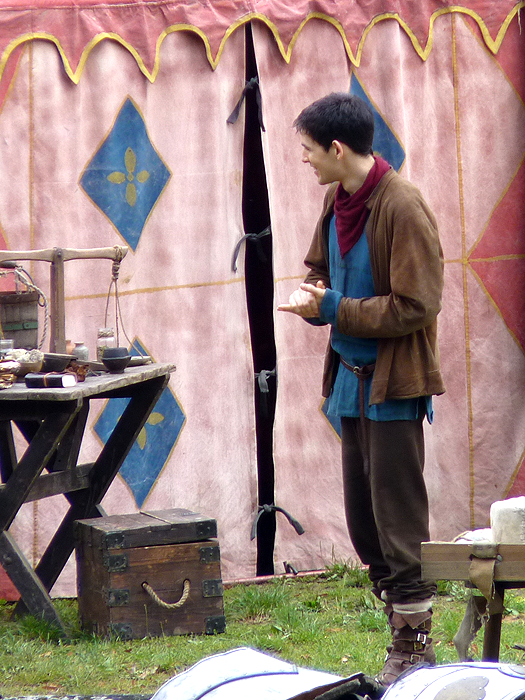 Oh Colin -- you were looking particularly adorable -- even if you were cold and rubbing your hands together all the time. [And he wasn't the only one who was cold...brrrr on that hill.]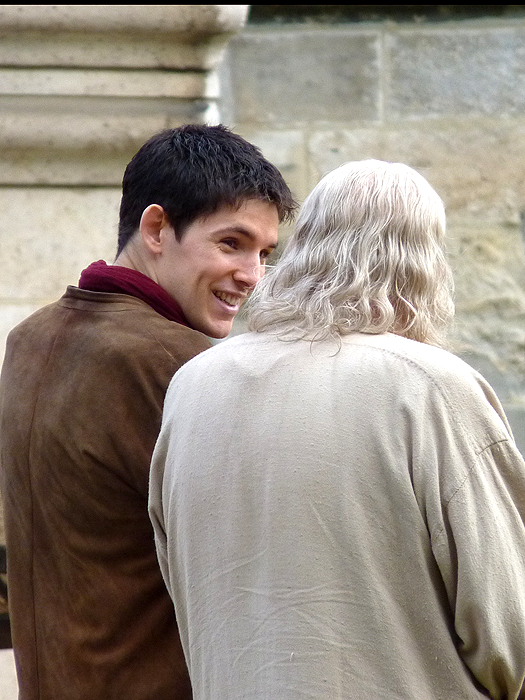 This is my favourite picture of Colin and Richard. Oh Colin ... you really were adorable this week.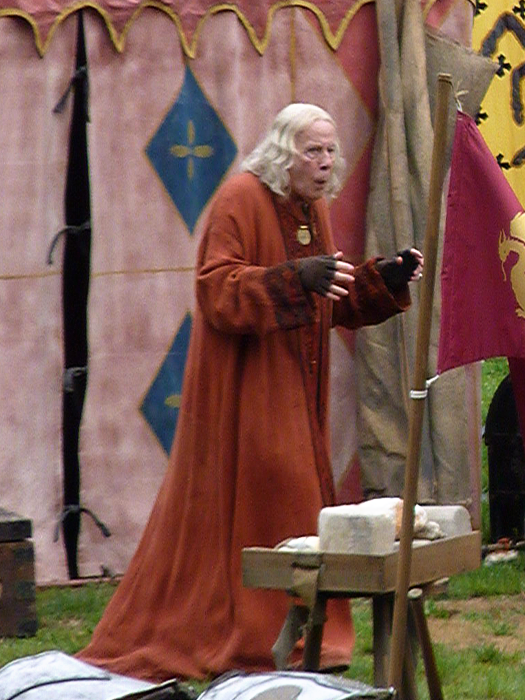 As for favourite pics, I have no idea what Richard is doing, but just look at his hands and his face. Hee!!!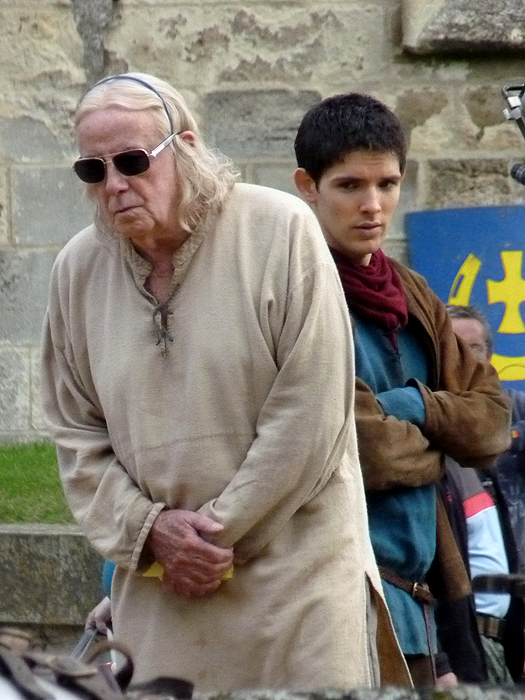 Absent his Gauis costume, he's rocking the shades and the headband :).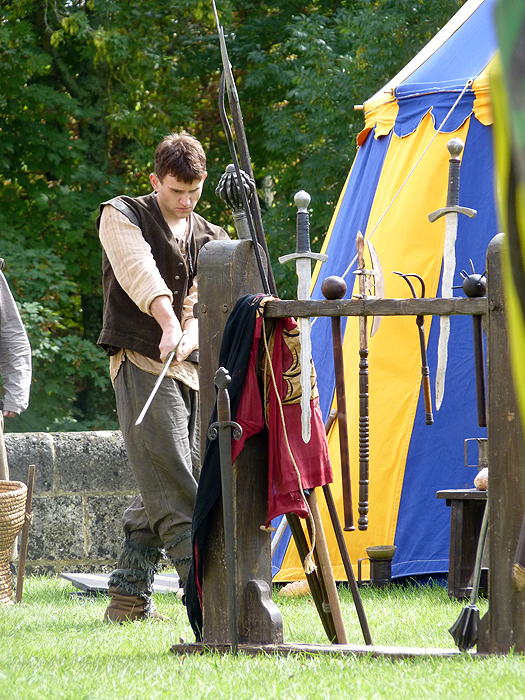 This fine young lad is the mystery figure. He's been filmed a lot -- both by himself and with others. He was wounded at time with both Gauis and Merlin clucking over him. Time will tell who this mysterious brunette turns out to be....

As for the following: just check out the sequence of photos.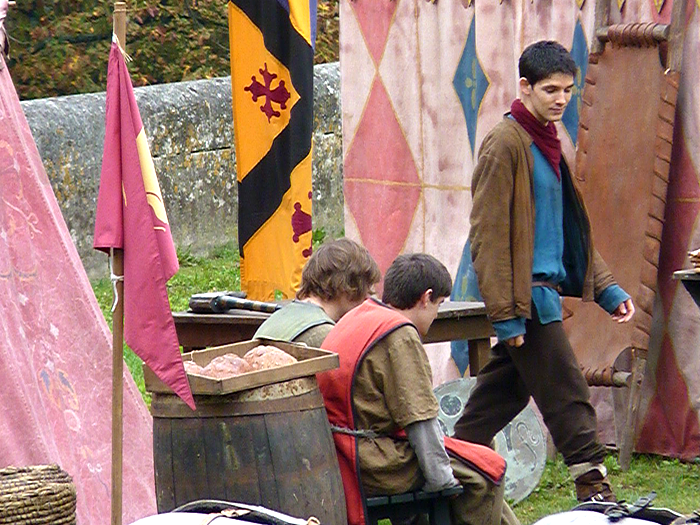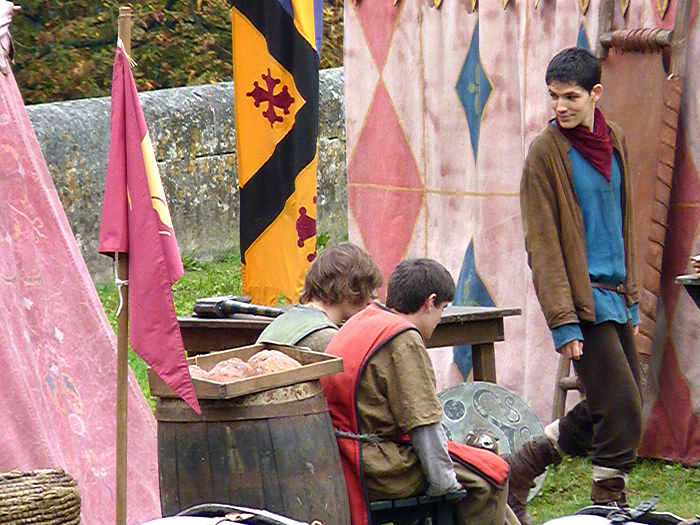 What *is* Colin looking at?!? Regardless, his expressions are fabulous.

And speaking of fabulous, when Colin is burning off excess energy right before a shoot, he and Bradley seem to share the same desire--jump.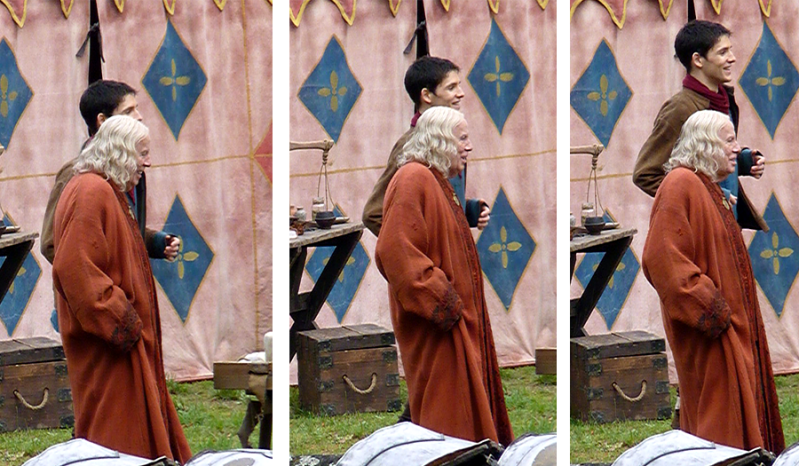 As for the rest of the cast, we saw Tony walk by but it was pouring buckets so the cameras stayed undercover. Emilia Fox was also there (and yes, quite obviously pregnant in real life). And we did see Katie walk by ...




... we suspect the scene she was filming might have involved the main cast at night in their sleep clothes. But at the end of the day, 'tis all speculation.

All in all a successful couple of days :).
Current Mood:

pleased